We recently launched FUNCTION12 on Product Hunt which resulted in a great outcome. We've received plenty of help from various sources, friends and colleagues, and our users. To pay gratitude, we have written about how our success was possible and some tips to keep under your fingertip when preparing for the launch.
When should you start preparing?
In order to execute everything at the right time, it's important to plan and follow through with the to-do list. For us, we started a month prior to the launch and would be recommended to start planning at least 3 weeks ahead would be highly advised.
When should you launch?
With this, it seemed that everyone's words were different. Some say that Monday is the most competitive, and some say Friday is the hardest when it comes to competing on Product Hunt. We chose Tuesday, which was also said to be competitive by some of the makers in the past, but more competition meant, more traffic, which is what we definitely needed!
---
Preparation
To-do list
We create a to-do list by creating materials for Product Hunt listing and campaigns to make a list of appropriate communities that would be interested in our product. We've also added dates for each task with 'deadline date' and 'executing date' so that we could have everything prepared in advance and proceed with everything by the schedule smoothly.
Social Media and Emails
Through our social media channels, we've announced our launch several times, including D-7, D-2, D-1, and launch day. We've also sent emails a week, and a day before along with the launch day notification. Although it might seem a bit annoying to our audience, we felt the need to show how much this launch meant to us.
Listing material
Make sure to write descriptions, taglines and create screenshots that can show the essence of your product. We tried to keep descriptions and taglines short to the point and wrote everything else that Shawn, our CEO, wanted to express in the Maker's comment.
Letting people know about your launch
This may be the most important among the four preparations and also the most time-consuming. Before the launch, let your friends, colleagues, investors, and ex-girlfriend/boyfriend(yeah, just joking)..know about your upcoming Product Hunt launch. Rather than sending a generic message saying, personalize the messages and keep in touch with those people until the launch.
Also, find channels like Reddit, Facebook group, or Slack group that may be interested in your product.
Plan for promotions
Since more traffic might occur if the launch went successful, we prepared a pricing promotion available only during the launched month. Rather than sales increasing purposes, we wanted to have more users actively use our product and share feedback among our community.
Upcoming pages and Coming soon hub
Product Hunt offers both upcoming pages and the coming soon hub. The upcoming page offers a simple landing page where you can share the link to social media or communities to sign up for a notification mailing list and send emails on the day of the launch. Coming soon hub is for scheduled launches that appear on the right side of the Product Hunt main page and also allow users to sign up for notifications on the day. These features help people to know about your product in advance.
Launch Day
Woo-hoo! It's finally the launch day. Product Hunt offers a scheduled launch, so make sure to set your launch date and time in advance. Once uploaded to the site, make sure to have all your audiences visit and support your product as much as possible. Share your results with the community and show gratitude for their support.
Results
We were able to place 1st in Product of the Day with more than 1K upvotes.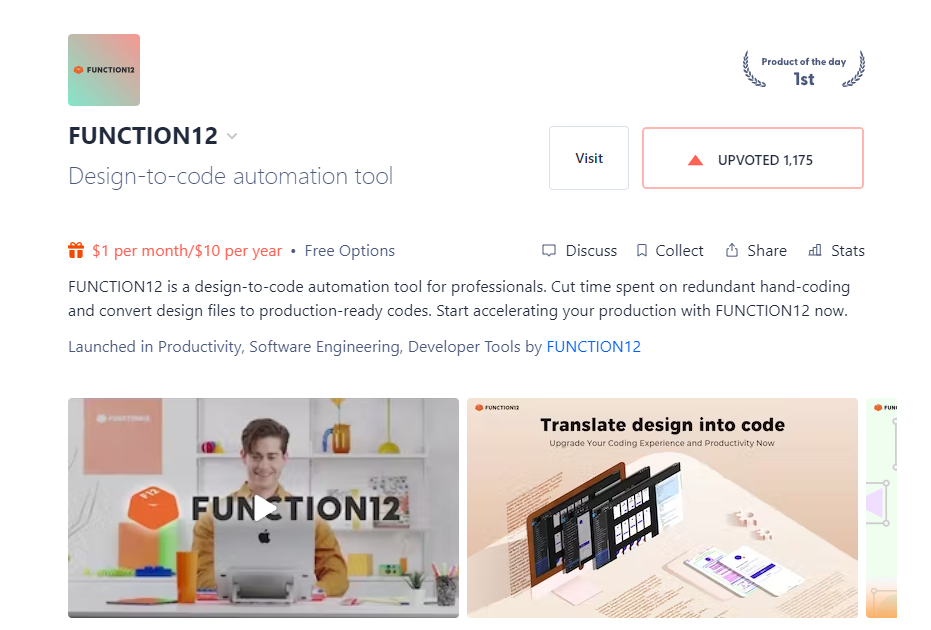 Of course, we were also featured in the next day's Product Hunt newsletter.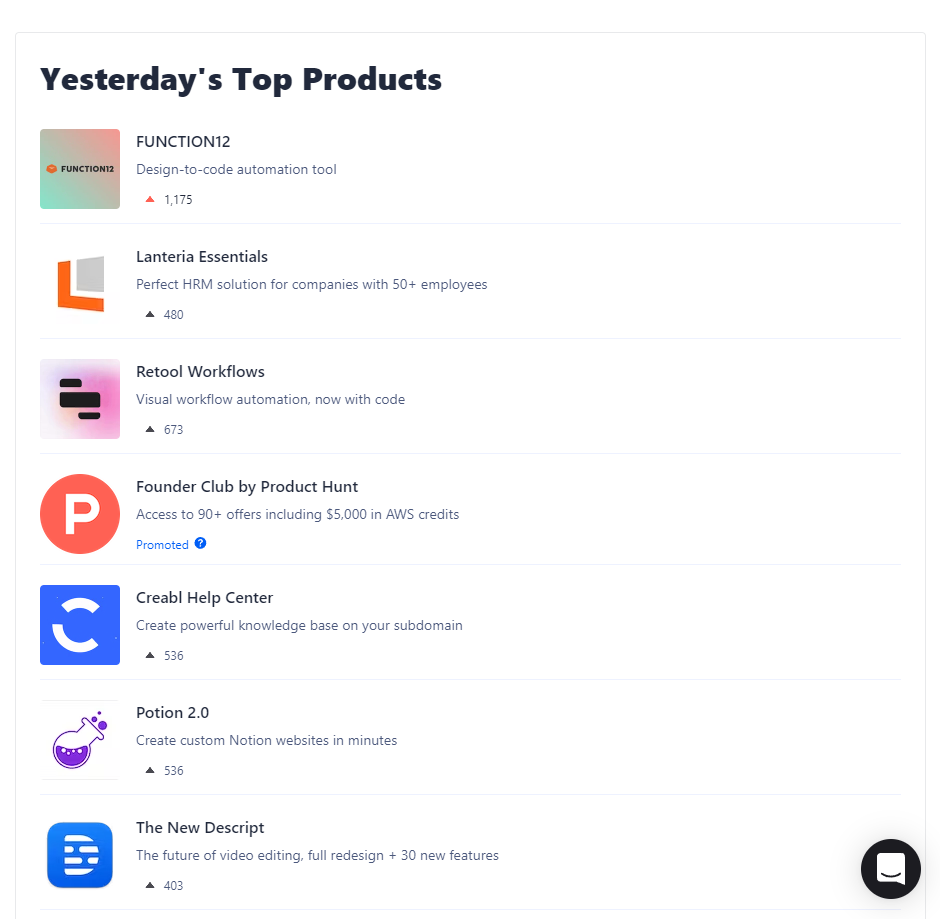 But what also excited us was that the Product Hunt team also introduced us to Daily Digest in their newsletter, capturing the very essence of our product😄 (Thank you!)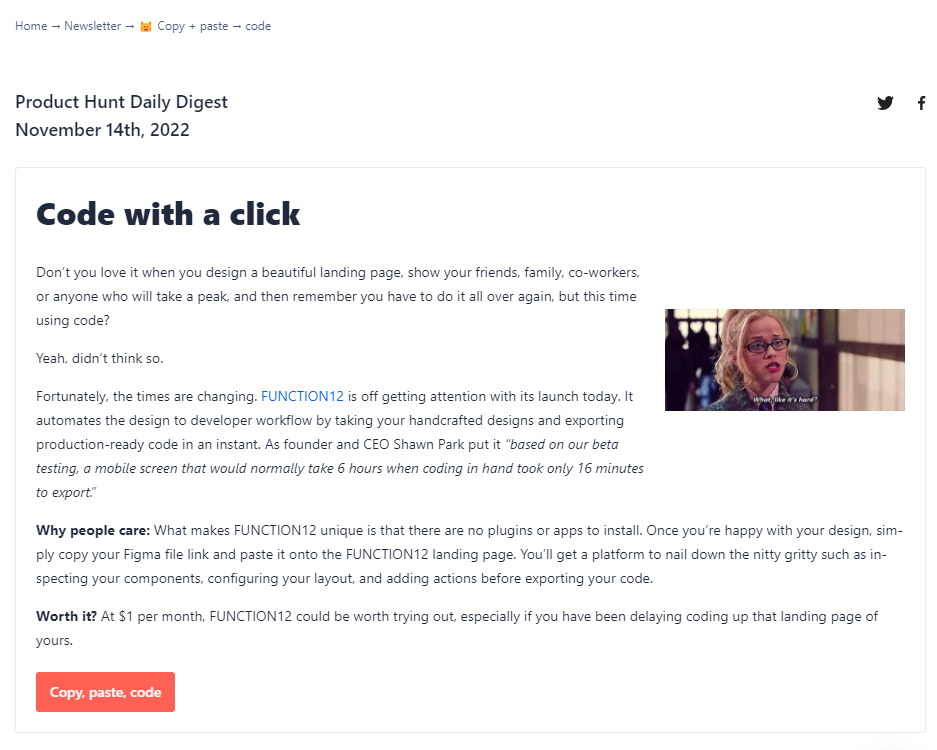 Here are some extra tips I wanted to share:
Get upvotes in the first few hours.
Make sure to get as many upvotes in the first 2-3 hours. Once you're on the top of the main page on Product Hunt, more people will visit and check your product, which will also attract more traffic on and on. So, it's important to focus and get as many upvotes and comments right after the launch have been released.
Stay focused for the next 24 hours.
Once launched, make sure to keep your focus for the next 24 hours. Because the Product Hunt's product list gets refreshed at 12:01, it's important to have everyone on your team get engaged until 12:00 the next day.
Gather an audience, as much as you can, prior to the launch.
It may sound obvious, but it's important to have an audience that enjoys and know about your product well.
Wish only the best of luck to all the makers out there.
Related Posts